**PLEASE NOTE: THE KIDS CAMP IS FULL** 
We are no longer able to take registrations for the 2023 Celtic Kids Day Camp!
The Celtic Kids Day Camp is a chance for children between the ages of 4 and 12 to take part in Celtic culture.
The Kids Camp and the Celtic College follow the same daily schedule running Monday to Friday. Like the College, it concludes on Friday afternoon with a Showcase at the Festival, where the kids show off their new skills to their parents and guardians.
The Kids Camp is divided into three streams by age: 4-6, 7-9, and 10-12. Students have the opportunity to experience song, tin whistle, harp, guitar, fiddle, percussion, dance, drama, storytelling, and craft art with local professionals and masters from the Celtic College. 
 There are eight 40 minute classes per day, which include tin whistle, song, drama, rhythm, dance, art, and recreation, with options for students aged 7-12 to take classes on different instruments, which could include harp, fiddle, guitar, or ukulele. (Tin whistles are provided and harps are available to borrow, but students taking fiddle, guitar, or ukulele classes must bring their own instruments.)
There is a family discount available for four or more family members studying at the Celtic College or Kids Camp.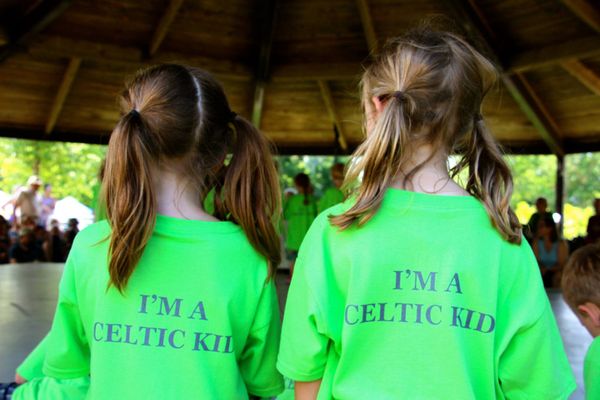 A day at the Kids Camp might look like this:  
1) 9:00-9:40 - Drama or Harp  
2) 9:40-10:20 - Dance  
RECESS 10:20-10:40  
3) 10:40-11:20 - Recreation or Fiddle  
4) 11:20-12:00 - Rhythm or Ukulele  
LUNCH 12:00-1:30 - students can bring a packed lunch or parents can come pick them up.  
5) 1:30-2:10 - Drama  
6) 2:10-2:50 - Tin Whistle or Guitar  
RECESS 2:50-3:10  
7) 3:10-3:50 - Song or Harp  
8) 3:50-4:30 - Art  
For more information:   
Goderich Celtic Roots Festival & College   
Box 171, Goderich ON, N7A 3Z2      
(519) 524 8221   
college@celticfestival.ca